HUTTON Winches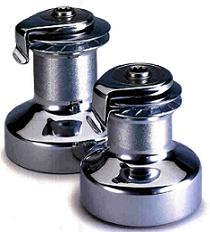 At AUSTRALIAN YACHT WINCH, we have a commitment to manufacture yacht winches that are reliable, serviceable and will work to their optimum in the roughest conditions.
HUTTON winches on board many cruising, racing and naval vessels bear testimony to our success.
Full metal drums. Materials available:

Marine grade chrome plated manganese bronze
Highly polished manganese bronze
Hard, black anodised high tensile aluminium

Cast one piece, bronze gearbox constructions without assembly screws
Precision generated, solid high tensile aluminium bronze gears
Self-adjusting, all metal jaw self-tailing system for maximum rope diameter range
Easy on-board top-to-bottom service. No special tools are required
No plastic components are used (other than bearing cages)
All products featured on this site are manufactured or supplied by:
THE AUSTRALIAN YACHT WINCH PTY. LTD.
PO Box 401
Galston N.S.W. 2159 Australia
Phone: +61 2 9653 2111
Fax: +61 2 9653 3119
Email:
sales@huttonwinches.com
All prices quoted on this site, unless otherwise specified, are in US dollars.
© Australian Yacht Winch Pty. Ltd.