Furlers >
Manual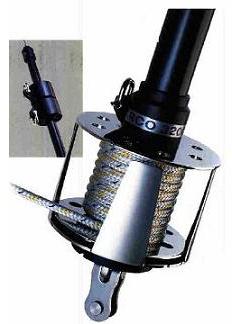 New to the range of HUTTON products
HUTTON Roller Furling / Reefing Systems
Since the successful and very well received introduction of our BIG GEAR 6000 manual and hydraulic Roller Furling / Reefing system, we have now extended the range of HUTTON Roller Furling / Reefing systems to cater for boats from 30 to 110 feet.
For the first time ever there is now a comprehensive line of high quality Australian manufactured Roller Furling / Reefing systems, and they are available at very competitive prices.
HUTTON Furlers also include features which are not available from many of the expensive imported systems.
| Name | Operation | Boat Size | Forestay Wire Size | System Length | Foil Extrusion (diameter) |
| --- | --- | --- | --- | --- | --- |
| HUTTON #3200 | Manual or Hydraulic | 30 to 42 feet | From 6mm (1/4") to 10mm (3/8") | 18 meters | 32mm |
| HUTTON #4800 | Manual or Hydraulic | 40 to 60 feet | From 10mm (3/8") to 16mm (5/8") | 24 meters | 48mm |
| HUTTON #6000 | Manual or Hydraulic | 55 to 110 feet | From 16mm (5/8") to 25.4mm (1") | 28 meters | 60mm |
All furling system lengths are are increasable in sections of 2 metres
General features of all HUTTON Furlers:
Aluminium Top Cap: Prevents the halyard swivel from being accidentally over-hoisted.
Precision Drilled Torque Links: CNC machined Links for perfect alignment.
'TORLON' Bearings: 'Torlon' Ball Bearings fitted in both the Drum and the Top Swivel for high strength and efficiency - no lubrication required.
Riveted Assembly: Reliable riveted Foil Assembly requires no drilling. Will not freeze, strip or back out. Can be easily removed or repaired.
Twin 'Aft Facing' Sail Grooves: Two aft facing sail grooves allow furling system to carry two sails at any one time or enable quick sail changes during a race.
Full Headstay Adjustment: Use of existing Headstay and Turnbuckle reduces expense and installation time, while allowing full adjustment without increasing the Drum height.
Anodised & Heli-coiled: All aluminium components are anodised and fitted with Heli-coils for years of trouble free sailing.
Heavy Duty Base Toggle/Link: Over specified to handle any side loading forces.
Features of HUTTON Manual Furlers:
Removable Split Drum: Allows easy removal for racing.
Large Drum Diameter: Provides greater mechanical advantage.
Open Drum Design: Allows for easy inspection and access to furling control lines.
Stainless Steel Cage: Prevents damage to the Drum from strikes by bow mounted anchors.
All products featured on this site are manufactured or supplied by:
THE AUSTRALIAN YACHT WINCH PTY. LTD.
PO Box 401
Galston N.S.W. 2159 Australia
Phone: +61 2 9653 2111
Fax: +61 2 9653 3119
Email:
sales@huttonwinches.com
All prices quoted on this site, unless otherwise specified, are in US dollars.
© Australian Yacht Winch Pty. Ltd.