Boombrakes

Manufactured in Australia by
AUSTRALIAN YACHT WINCH CO.
for customers who put safety first.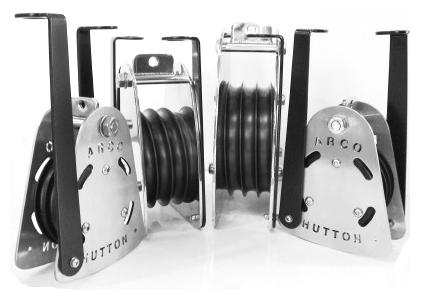 Polished stainless steel body and hard, black anodised rope drum
Polished stainless steel top fixing plate and stainless steel fasteners
The safest, easiest way to control the boom before and during an accidentally or intentional jibe
Saves personal injury and material damage
Replaces the vang and works as a preventer
HUTTON BoomBrake controls the boom travel speed
Easy to install, the HUTTON BoomBrake attaches to the boom [usually to, or near the boom vang fitting]
Strong and maintenance free - there are no moving parts
Steadies the boom when reefing
All models carry a 10 year global warranty
---
We frequently supply BoomBrakes to yacht owners who have experienced a bad, uncontrolled jibe, usually resulting in costly repairs,
or worse still, in personal injury.

Why wait for this to happen?

What some owners say about their BoomBrakes:
"Most of my cruising is short-handed and the peace of mind my BoomBrake gives me, makes it an essential piece of equipment on my boat.
I thoroughly recommend it."
Jim Middleton - Swanson 42
"In 30 years of sailing, including Pacific crossings, I don't know how I sailed so far without a device like the BoomBrake. It has made passages easier and safer. My BoomBrake is always reliable and easy to use."
Robert Toothill - Jarkan 10.5
HUTTON BoomBrakes are recommended by Australia's leading yacht and spar manufacturers.
Be prudent and install a HUTTON BoomBrake for peace of mind.
All products featured on this site are manufactured or supplied by:
THE AUSTRALIAN YACHT WINCH PTY. LTD.
PO Box 401
Galston N.S.W. 2159 Australia
Phone: +61 2 9653 2111
Fax: +61 2 9653 3119
Email:
sales@huttonwinches.com
All prices quoted on this site, unless otherwise specified, are in US dollars.
© Australian Yacht Winch Pty. Ltd.